Lone Star Copiers, Inc. based in Del Rio, Texas, is a leading provider of award-winning office machinery, networking, storage and web based solutions for small to medium sized businesses as well as a large corporate/ national accounts environment. With almost two decades of experience mastering solutions for the total office and offering networking and computer peripheral experience, Lone Star Copiers has proven its commitment to delivering innovative, best-of-breed solutions that have catapulted the company to the forefront of infrastructure and office technology.
As one of South West Texas' leading Copier, Laser Printer and Fax suppliers, we are able to offer you amazing choice together with fast service and support. Whether you buy new or remanufactured, it is backed by Lone Star Copier's Promise. Please browse our products and services on these pages and contact us with any queries that you may have.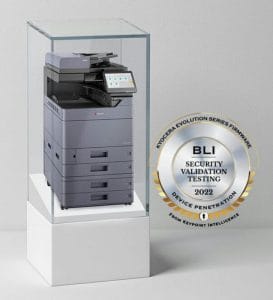 Kyocera Security is Keypoint Certified
With the volume and complexity of cybersecurity increasing by the day, data protection is now at top-of-mind for business leaders. In the face of this new wave of professional hackers, Kyocera has once again raised its fighting spirit, taking a proactive approach to ensuring its highest possible level data protection for its devices.
Kyocera was extremely proud to receive the prestigious Keypoint Intelligence Security Validation Testing certificate for its Evolution Series during its REIMAGINE dealer conference, which took place June 1-3, 2022 in San Antonio, Texas. The rigorous examination focused on both automated cyberattacks and white hat hacking and involved attempted Device Penetration of the firmware and underlying OS.

Lone Star Copiers Inc. services the entire line of Copystar products. The Copystar line of products is manufactured by Kyocera and is based on Kyocera's award winning technology.
Kyocera's Tiered Color System and Tiered Color Monitor
BRING AFFORDABLE
C
O
L
O
R
PRINTING TO YOUR OFFICE